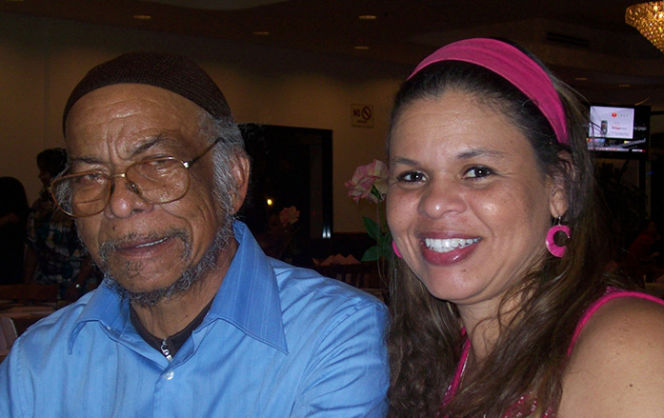 Former Deputy Coroner's Aide Lionel Grandison and his daughter author Crystal Jackson in 2009
On August 5, 1962, Marilyn Monroe's body was found deceased, and a rush to judgment of suicide caused young Grandison to question her death after discovering Marilyn's secret diary, Despite flawed and altered police reports, missing body tissues, and a deadly drug mysteriously entering her system, the chief medical examiner forced him to sign her death certificate ruling it a 'probable suicide.'

Jackson's historical fiction novel delivers her dad's heart-wrenching story of love, corruption, deception, and undying fight to hold onto his family after powerful people seek to prevent him from uncovering the truth about how the legendary Hollywood actress died.

"What really happened to Marilyn Monroe, I don't know, but evidence shows there should have been a coroner's inquest, at the very least. I mean big movie studios, shady doctors, and horny politicians – all of them were involved and there were so many lies," Crystal Jackson elaborated."

"It's about sharing his incredible story with the world. My dad was a young, vibrant, Black 22-year-old coroner's deputy with his whole life ahead of him. But when he arrived to work that fateful Sunday morning on August 5, 1962, everything changed."

Last year, Crystal Jackson released her popular biographical fiction novel, "Not Colored." The book follows the journey of three generations of African American women through their racial triumphs and struggles.

"In my book, Not Colored, I touched on the trauma Marilyn Monroe's case caused my mother and father. However, in my new book, readers will discover the real man my dad was and what actually happened at the coroner's office. But, more importantly, the devastation he faced in the aftermath. I'm carrying this torch for him now, and the best way to do that is tell his story."

Crystal Jackson's new book, "The Marilyn Monroe Connection," is available now on Amazon, Barns & Noble, and Apple. You can also order an autographed paperback by clicking here.